Attendee Information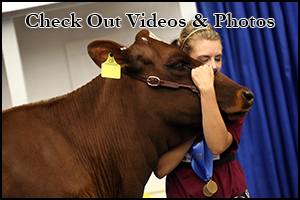 Official Program
Admission (12 years and older): $12 daily $35 Season
World Dairy Expo is where the dairy industry meets. No other dairy event in the world compares. Designed for dairy producers and industry partners World Dairy Expo is a showcase for elite dairy cattle, cutting edge research and modern technologies.
Navigating Expo
Find every company at Expo, along with their contact information and details with our Interactive Maps. Make a "Must See" list of places you don't want to miss and which can be easily accessed.
Official Program
Official Programs, published by Dairy Herd Management, are available at the gates; as well as at stands around the World Dairy Expo located at the entrance to the Exhibition Hall, Coliseum, Arena Building, New Holland Trade Center, New Holland Pavilions and at the Information Desks.
You can also find the full Official Program here.
Dining Guides
Find menus and locations for food on the restaurant page. There you will find great local establishments to try during Expo.
**NEW** The Tanbark. Opening daily at 11 a.m., this pub-style restaurant features a specialized menu and full bar. Located on the east end of the Estrumate Sale Pavilion, this bar and grill will serve as the meeting place for attendees and exhibitors.
WDE Welcome Reception
On Wednesday, make plans to attend the WDE Welcome Reception, hosted by World Dairy Expo in the Alliant Energy Center's Exhibition Hall from 5 p.m. to 6:30 p.m. This event is open to all Expo attendees and stakeholders, from all walks of life.
Expo in the Evening
One of the early Expo traditions included a square dancing competition on the Coliseum floor. While it might not be a competitive contest, we are looking forward to hosting a dance once again this year during Expo in the Evening on Friday at 8 p.m. in The Tanbark. Everyone is welcome to join us at this free event, which will feature live music and refreshments from 8 p.m. to 11 p.m.
Lost and Found
A lost and found is located at the Expo Office on the top floor of the Coliseum or by calling 608-224-6455.
Expo Family Lounge
Sponsored by: Dairy Girl Network
This new area is a place for families with small children to rest and recharge. This quiet lounge features chairs, changing area, and more. The lounge is located on the second floor of the Exhibition Hall by the elevator in the Madison room.
Wheelchairs and Scooters
Neither World Dairy Expo or the Alliant Energy Center provide wheelchairs or scooters. World Dairy Expo does not have an onsite exhibitor who rents mobility devices, however there is one off-site company that you can contact in advance of the show for assistance. Please refer to their website form for rentals.
Buit Mobility Solutions http://www.buitmobility.com 608-403-3093 or 1-877-273-1197
Camping/RV
This year, there is limited camping available on Willow Island at the Alliant Energy Center. Sites are available for $50 per night and include electrical and water hook-ups. The spots will be filled on order of they are reserved. Reservations may be submitted directly to the Alliant Energy Center via the online order form or mail. Download your camping form here.
Shuttles
World Dairy Expo will have a free shuttle service that will be running during the show, from the Alliant Energy Center to downtown hotels. The two, 31 passenger shuttles will begin their routes around 6:30 a.m. and conclude at 6:30 p.m. each day. The route will run as follows:
Graduate Madison
The Edgewater
The Madison Concourse Hotel and Governor's Club
Hyatt Place Madison-Downtown
Best Western Premier Park Hotel
Hilton Madison Monona Terrace

Alliant Energy Center. Each loop takes approximately 45 minutes and will visit each property twice an hour. A full schedule is posted in each hotel lobby.
Taxi
World Dairy Expo works closely with Madison's taxi companies. Taxis are available during show hours outside of the East Lobby of the Coliseum. Taxis can also be reached by calling: