World Forage Analysis Superbowl


at World Dairy Expo in the Arena Building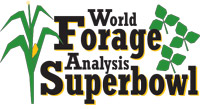 In the World Forage Analysis Superbowl Contest, forage producers enter their highest quality forages in seven different categories to compete for more than $25,000 in cash prizes. The winning forage samples are on display at the east end of the Arena Building. Forage experts from the U.S. Dairy Forage Research Center, University of Wisconsin and other research centers are on hand to present cutting-edge information and to answer individual forage research questions at the Dairy Forage Seminars.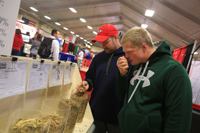 Rules and Entry Form
To learn more about the 2017 World Forage Analysis Superbowl Contest, download the official Rules and Entry form (PDF).
Corn silage entries must be received by August 1, 2017.
All other entries are due September 7, 2017.
2017 champions will be named at World Dairy Expo. Call 920-336-4521 with any questions.
News Releases
Organic Hay Category Added to 2016 World Forage Analysis Superbowl
$25,000 in Prizes Offered for 2016 World Forage Analysis Superbowl
2016 World Forage Analysis Superbowl Winners Announced

Sponsors
Division
Sponsor
Winner
Division
Sponsor
Winner

Standard Corn Silage

Koster Dairy
Falmouth, Michigan

Haylage

New Day Dairy
Athens, Wisconsin
Brown Midrib Corn Silage
Mapleview Farm
Madrid New York
Baleage
Darin Cox
Merom, Indiana
Grass Hay
Paradise Rueth
Oxford, Wisconsin
Grand Champion Forage

Tom Leubke
Mayer, Minnesota

Dairy Hay
Harry Adams, Jr.
Byron, Illinois
Grand Champion
First-Time Entrant
Dynamic Dairy Nutrition
Hixton, Wisconsin
Commercial Hay
Hardrock Farms
Wheatland, Wyoming
Quality Counts Awards for Hay/Haylage & Corn Silage
Schwantes Dairy, Perham, Minnesota
New Day Dairy, Athems, Wisconsin
NEW Organic Hay
Pounder Bros Inc., Delavan, Wis.

Thank You to Our Silver Sponsor:




SPECIAL THANKS to Mycogen Seeds for their Platinum Sponsorship
Dairy Forage Seminar Stage
Wednesday, October 5


10 a.m.

Invisible Losses from Corn Silage Piles and Bunkers: Real "Shrink" Losses

Peter Robinson, Extension Dairy Nutrition and Management Specialist

University of California, Davis, CA

1:30 p.m.

"It" Doesn't Just Happen: What Manure Evaluation Can Tell Us About Cows and Rations

Mary Beth Hall, Dairy Scientist

U.S. Dairy Forage Research Center, Madison, WI

Thursday, October 6

10 a.m.

Feeding Reduced Lignin Alfalfa: How Do We Achieve the Most from This New Technology?

David Weakley, Director of Dairy Forage Nutrition Research

Forage Genetics International, Gray Summit, MO

1:30 p.m.

What to Look For When Feeding This Year's Forage

John Goeser, Animal Nutrition Director

Rock River Laboratory, Watertown, WI

Friday, October 7

10 a.m.

Selecting, Establishing, And Managing Cover Crops After Corn Silage

Heidi Johnson, Crops and Soils Agent

University of Wisconsin Extension, Dane County

1:30 p.m.

Forage Quality for High Producing Dairy Herds: Key Performance Indicators

Randy Shaver, Extension Dairy Nutritionist

University of Wisconsin-Madison

Saturday, October 8


10 a.m.

Is It Better for Forages to Be More Digestible or to Digest More Quickly?

David Combs, Professor of Dairy Science

University of Wisconsin-Madison
WFAS Organizing Partners: DairyBusiness Communications, Dairyland Laboratories, Inc., Hay & Forage Grower, US Dairy Forage Research Center, University of Wisconsin and World Dairy Expo