World Dairy Expo Contests
World Dairy Expo competition is not limited to the Dairy Cattle Show. Numerous other contests are hosted at this premier dairy event…some for producers, some for youth and some for dairy processors.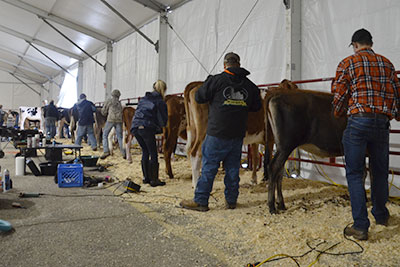 Young show enthusiasts travel from across the world to compete in the Youth Showmanship Contest. It is a great venue for junior exhibitors to prove that they possess the proper cattle handling and showing techniques to present a dairy animal to its best advantage. The Youth Fitting Contest is another opportunity for young dairy exhibitors to demonstrate their ability to properly clip and fit an animal to show-ready status in a timed event.
National dairy cattle judging contests are one of the highlights at World Dairy Expo with divisions for 4-H, FFA, Post-Secondary and Collegiate teams. These highly competitive contests are held Monday and Tuesday during World Dairy Expo.
One of the largest contests of its type in the world, World Dairy Expo Dairy Product Championship Contest is the only one in North America that evaluates and ranks all types of dairy products. And the World Forage Analysis Superbowl brings the best from across North America to compete in this important facet of dairy nutrition quality. All of these contests bring the "cream of the crop" to WDE to compete in these prestigious industry contests.